Professional Disc Jockeys


Karaoke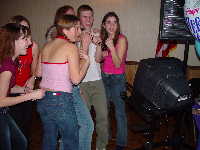 R.E.W. Entertainment uses only the finest digitally recorded CD+G's to insure that they sound as good as the original hit records. Our karaoke arrangements are recorded without the lead vocals, but many include harmony back up singers so you'll sound as though you have your own hit band. That's the beauty of karaoke. Pick a song, any song. We have over 7,500 selections in our library, including the best of rock, pop, country and blues and top artists like Madonna, Elvis, The Beatles, Frank Sinatra, The Beach Boys, B-52ís, and the newest Pop Artists. Music you can sing to, for every occasion. Just grab a songbook and let your imagination take the stage! Your KJ (Karaoke Jockey) has extensive experience in running a show that creates a supportive and fun environment. With years of experience, he specializes in having fun and has introduced thousands of people to karaoke. He will run the equipment, encourage new singers, and sing along if necessary. He will bring the equipment, set it up, and take it away. Itís painless and worry-free. Itís fun. Itís happening. Itís Karaoke!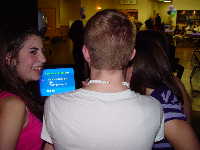 The real magic is you don't need to know the words. Song lyrics scroll right before you on a monitor screen, colorfully high-lighted and in perfect tempo with the music. Youíll find even your most skeptical guests "Singing along" with the music as they themselves get into the act. Count on it! And count on your karaoke host to keep the fun moving. Karaoke time is show time! You can add karaoke to part of your party or make karaoke the main event. It is up to you. A list of current karaoke selections will be supplied to your guests for them to choose from. After a song is written on one of the supplied Song Request Forms, it will be delivered to your KJ. He will then introduce the singer and invite him/her to the performing area for their karaoke experience. The words to the song will be displayed on a TV monitor in front of the singer. The words will change color as each is to be sung. Just following the bouncing ball. Thatís all there is to it.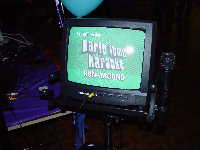 R.E.W. Entertainment uses only the very latest in professional performance sound equipment. JBL high-power amplifiers and speakers, Shure high-grade microphones, and Pioneer state-of-the-art CD+G karaoke systems with digital voice processor and key control functions. Your guests will not only sound like pros, their performances will be stunning and " on key," too. At R.E.W. Entertainment we bring entertainment to you. Our company makes you a star in front of all your friends and family. We can handle small groups or large stage performances. We offer a professional yet friendly approach to your guests, even those who are shy in singing. All of the words of our songs are displayed on a monitor ready for you to sing. You don't have to know the words. We furnish the words for you. Don't despair for we can entertain you ourselves by singing "all-time" favorites that should have your feet tapping. You will find your stage fright does not last long when we are leading your karaoke event.
Call us Today!! 610-325-3818
Clients & Locations Employment Home
© Copyright 2004 R.E.W. Entertainment
Last updated Sunday, March 14, 2004 20:39 -0800